WiiM Pro Plus What Hifi winner 2023
dennis
WiiM Pro Plus review
What Hi-Fi? Awards 2023 winner. Anonymous appearance, potent performance .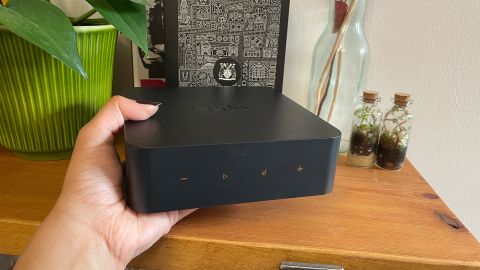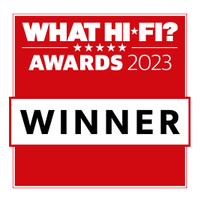 (Image: © What Hi-Fi?)
What Hi-Fi? Verdict
If you're dipping a toe into the world of music streaming, you can't go wrong here
Pros
+Detailed, expressive and organised sound
+Great control app
+Simple to set up and operate
Cons
-Plasticky build
-Could conceivably sound more muscular
Why you can trust What Hi-Fi?  Our expert team reviews products in dedicated test rooms, to help you make the best choice for your budget. Find out more about how we test.
'WiiM' is the rather awkward brand name adopted by Linkplay for a (quickly expanding) range of home audio streaming products. 'Pro Plus' is the only-slightly-less-awkward name of this incredibly budget music streamer, and is the most recent and top-of-the-range WiiM offering. Like quite a few similar products, it's designed to either bring high-quality audio streaming smarts to music set-ups that pre-date the technology, or to improve those systems that aren't much good at it.
It's a fair bit more affordable than the most budget music streamer we've seen so far, but, of course, undercutting on price only works if performance isn't compromised to the same degree. As long as the Pro Plus can outperform its asking price, though – even just a little – it should be easy enough to overlook just how ungainly the word 'WiiM' is to type.
Price
The WiiM Pro Plus is on sale now, and in the United Kingdom it sells for no more than £219. It's an even more attractive $219 in the United States, while in Australia it's yours for AU$339 or thereabouts.
Some context would be useful here. Earlier this year we heard and admired the Cambridge Audio MXN10 – it's a compact, likeable music streamer that we dubbed 'fantastically affordable', and it sells for £449 / $499 / AU$899. At that time, it was the most affordable streamer we'd come across since the Bluesound Node (2021) and Audiolab 6000N Play. You don't need to be any kind of mathematics savant to realise that this WiiM Pro Plus is less than half the price of 'affordable' – which means it has the makings of a bargain. If it's any good, of course…
Design & Build
As the asking price strongly suggests, the WiiM Pro Plus hasn't so much been 'designed' as it has been 'constructed'. It's a mere 42 x 140 x 140mm and just 400g (about the size and weight of a paperback book or box of chocolates), so there's not much of it – but at least it won't take up very much space on your kit-rack.
While it's made from plastic that's nothing special either to look at or to touch, it has at least been constructed with a degree of care. There are no sharp edges or exposed seams here. And that's true of the little remote control handset it's supplied with – 'functional' is the name of the game here. The WiiM Home control app that's free for iOS and Android is a different story, though: it's slick and stable, logical and clear, and so is a cut or two above what you might be expecting from such a modestly priced product (and even better than the apps accompanying rival products with more hi-fi pedigree). Amazon Alexa voice control is also available, with the remote control sporting a mic button for this purpose.
WIIM PRO PLUS TECH SPECS
Sources AirPlay 2, Bluetooth 5.1, Google Chromecast, Spotify Connect, Tidal Connect, Qobuz, Deezer, Amazon Music, Pandora, TuneIn internet radio
Network Wi-fi, ethernet
Inputs Line-level stereo RCA, digital optical
Outputs Line-level stereo RCA, digital optical, digital coaxial
Headphone output? No
Max file resolution 32bit/384kHz; DSD512
Dimensions (hwd) 42 x 140 x 140mm
Weight 400g
You can also control your Pro Plus using the selection of capacitive touch-points on the front panel for play/pause, volume up/down, set-up, Bluetooth pairing and assigning a preset (of which there are a dozen).
The rear panel, meanwhile, offers a selection of physical inputs and outputs. As well as a USB-C socket for mains power, there's an Ethernet socket, a digital optical input and output, a digital coaxial output and stereo RCA line-level in and out. It's a line-up that really should be more than adequate for most users most of the time. Bear in mind the two pairs of RCAs are quite close together, and slightly recessed into the casework, so it's tricky to fit those expensive, big-barrelled analogue interconnects you've saved up for. WiiM acknowledges as much by providing a rather more bog-standard pair of RCAs in the Pro Plus packaging.
Features
Wireless functionality is where it's at for a music streamer, of course, and the WiiM Pro Plus has plenty going on in this respect. As well as dual-band wi-fi and Bluetooth 5.1 (with SBC and AAC codec compatibility), Chromecast is built in, Apple AirPlay 2 is available too, and the Home control app has support for Spotify Connect, Tidal Connect, Qobuz, Deezer, Amazon Music, Pandora, TuneIn and plenty more slightly less high-profile alternatives too. The app can also access any music stored on a common network thanks to DLNA compatibility.
On the inside, the critical business is handled by an extremely capable AKM 4493SEQ digital-to-analogue converter. It's the presence of this chip set, in fact, that represents the biggest difference of the Pro Plus over its even-more-affordable Pro sibling (£149). It can deal with digital audio files of every popular type (and many unpopular types, for that matter) at a resolution of up to 32-bit/768kHz and DSD512, and operates at a native 24-bit/192kHz.
The Pro Plus also features analogue-to-digital conversion circuitry, in the shape of the Burr-Brown PCM1861. So if you connect an analogue source to your Pro Plus, it can then be wirelessly streamed to other WiiM products (such as the aforementioned Pro) to other zones of your home. It's a simple and convenient way of establishing a multi-home wireless audio system without paying Sonos money.
Sound
It won't come as any kind of surprise that the WiiM Pro Plus does its best work when given a big, information-rich high-resolution audio file to work its magic on. But one of the most satisfying things about the entire Pro Plus experience is just how forgiving it is of inferior sources. No matter how compressed or otherwise poverty-stricken the audio information you give it to deal with, the Pro Plus is a clear, detailed and even quite dynamically adept listen.
A full-fat, 24-bit/96kHz file of Weyes Blood's Grapevine accessed from some network-attached storage allows the WiiM to show what it's made of almost entirely. It creates a big, properly defined soundstage on which musicians can operate securely, and keeps detail levels high at every point. Despite the generous dimensions of the stage, there's no sense of estrangement or remoteness – every part of the recording relates to the others in a neat and confident manner.
This is particularly apparent in the midrange, where the vocal is brimming with character and attitude. The WiiM is attentive to even the most minor or transient dynamic variations in the delivery, and as a result, the vocal line sounds immediate, natural and full of conviction.
A switch to a more prosaic 16-bit/44.1kHz file of Drugs And Poison by The Upsetters lets the good news keep on coming. The Pro Plus isn't the most muscular listen you ever encountered – it's much more 'whippet' than 'bulldog' in this respect – but the low frequencies it generates are straight-edged at the moment of attack, just as detailed and texturally varied as the rest of the frequency range, and are controlled well enough to give the loping rhythm full expression. The recording trundles along in the most natural manner, and detail levels are sufficient to reassure you that you're not missing out on any information.
The broad tonality is a little on the cool side – but this is more of a trait than a shortcoming. And the frequency range is integrated cleanly, with no recesses or areas of over-emphasis – the unity of the WiiM's presentation is impressive, and its powers of integration are always apparent.
And when used as a preamplifier, or perhaps as a bridge to other WiiM products around your home, the Pro Plus sensibly gets as far out of the way of your music as possible. With a vinyl copy of Panda Bear & Sonic Boom's Reset playing into the streamer's analogue inputs via a phono stage and then out to a power amplifier – which leaves the WiiM in charge of volume and nothing else – the recording doesn't alter character or emphasis in the slightest. It can be streamed easily to another zone this way, too – although the analogue-to-digital conversion, wireless transmission and digital-to-analogue process it must undertake undeniably has an impact on detail levels and low-frequency precision, it's not the end of the world. If you want to hear your vinyl all over your home but only want to use one record player, the WiiM Pro Plus makes it easy.
Verdict
As a first, affordable introduction to the many and various charms of music streaming, the WiiM Pro Plus is hard to lay a glove on at the price. It sounds poised and accomplished, it has a surprisingly well-executed control app, and it's ready to form the basis of a multi-room system too. If you want to do better than this, it's going to cost you quite a lot more money.